2048 is a popular game and has quickly topped the charts of the app store. 2048 is a single-player sliding tile puzzle video game, made by Italian Web Developer Gabriele Cirulli who claimed he created the game in roughly 48 hours! And we have hacks for 2048 just for you. The object of the game is to combine the numbers displayed on the tiles until you reach 2048. It sounds easy but the game is actually addictive and sometimes frustrating.
2048 is a simple and entertaining puzzle game to play. It is controlled by the arrows or the W, A, S, and D keys on a 4×4 grid. All tiles slide when you press a key. Tiles that have the same value and collide are merged. If you've completed the game and want to master it, aim for a lower score. That means you used fewer moves to complete the game. This game is compatible with mobile devices and can be played on an iPhone, iPad, or another smartphone.
Download from Playstore
Before we jump onto the hacks, let us first give you some tips to help you play this game easily.
Tips to play 2048
1. Set up Lines
2048 is a chain game, the more pairings you have in a line, the better. Set up entire lines of matches ahead of time so you may wait to deploy them – and build bigger combinations.
2. Work through the Corners
If you keep moving your tiles into the same corner, the smaller tiles will naturally fall into place next to each other, and your huge card will become less of a headache.
3. Stack up the Columns
You'll eventually end up with 64s or 128s in opposing corners, so strive to create columns above those numbers that can quickly merge so you can reassemble them.
Here we have some Hacks and Cheats to help players achieve that sought-after 2048 tile.
Hacks for 2048
Pictures of Nepal highlights one 2048 hack that shows three main tips to optimize the chances of achieving the 2048 tile up to 80 percent.
If there are no other moves left then don't use the arrow key.
Arrange the tiles from highest to lowest from left to right and right to left in the second row and keep the high valued tiles at the bottom row.
Change the position of the tile when the highest tile value is in the left bottom corner.
2048 Cupcakes: A Non-Mathy Puzzle Game to Play Right Now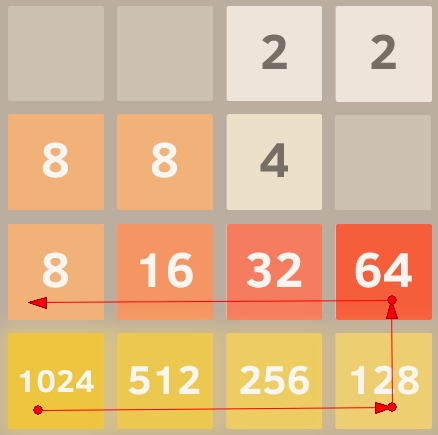 2. According to The Daily Dot reporter Neil Shader shares a "definitive guide to winning "2048" online.
Build numbers Side to side
Collapse upwards
Focus on a corner
Build chains
Be lucky
Never swipe down.
That's all the Hacks and Cheats which can help players to win the game 2048!
Happy Gaming! 🙂