Hello, fellow gamers and welcome back to another blog. In today's blog, we will be discussing the Best Characters & Teams For Exploration in Genshin Impact. Released towards the second half of 2020, Genshin Impact is an action role-playing game that has been a crowd favorite ever since its release!
Mentioned below is the list of the characters who are the best for exploring the map in Genshin Impact. All the characters have been ranked in different orders as they all serve different purposes. Some are known as good for their abilities and some for utility passives. Check them out!
Install Genshin Impact From Google PlayStore!
Best Characters For Exploration
1. VENTI
This character is best for reaching areas that are difficult to reach due to their height. Venti can launch itself upwards. The upward launch of the character also helps in the glide reach and hence the utility passive is also quite noticeable. Moreover, it also brings down the consumption of gliding stamina to 20% for all the party members.
2. KAEYA
This character is a Cryo Character and is known for freezing water which then gets converted to icebergs. This character will help you save time in exploring new places without the hassle of looking for alternative paths. It brings down the spriting stamina consumption by 20% for all the team members.
3. NINGGUANG
This character's ability is to locate ores in no time for you on the mini-map. This is possible because of her utility passive. This character is also known as the best for exploration in Genshin Impact.
4. KEQUING
This character offers restoration element skills which give her access to use the teleport but this will only work diagonally so get used to it. On the other hand, it's quite easy to use.
5. QIQI
This character's ability is to show you the location of resources unique to Liyue on the mini-map, just look for a hand icon.
6. KLEE
This character works the same as QIQI but the only difference is that it shows the location of resources unique to Mondstadt apart from Liyue.
Get Genshin Impact On App Store!
7. DILUC
This character is a Pyro character and uses Claymore which is the only reason why it is on this list. Claymore comes in handy for farming ores and the damage from the Pyro helps you burn woods or other barriers which can be burned down the lane as you proceed.
8. ZHONGLI
This character can create pillars that help you get to the unreachable locations.
9. KAMISATO AYAKA/MONA
These characters come in as a tie this is because of their alternate sprint. This ability of them allows them to bend water faster than any other character. Their speed and ability stay the same due to which there is a debate where some say AYAKA is fast and for some MONA is fast. So let's keep them as a tie and you can choose any.
So that was all about the characters now let's move on to some combinations of the teams which you can try for your exploration.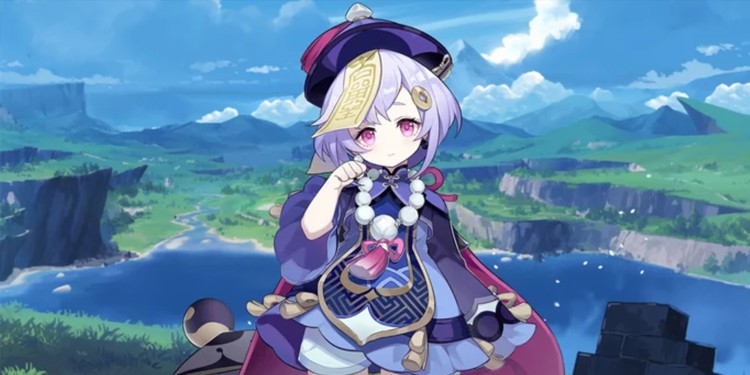 Teams For Exploration In Genshin Impact
Team 1
EXPLORATION OF LIYUE
VENTI
KAEYA
QIQI
KAMISATO AYAKA
Team 2
EXPLORATION OF MINDSTADT 
KEQING
KLEE
NINGGUANG
DILUC
TEAM 3
RANDOM EXPLORATION
VENTI
KAEYA
MONA
ZHONGLI
So guys that was some was a complete guide on the Best Characters & Teams For Exploration in Genshin Impact. Do let us know your feedback in the comments below as it keeps us motivated to write new gaming blogs for you guys.
Happy Gaming! 🙂