Hello guys! And, welcome to an amazing blog about How to get Rold Route in Elden Ring. If I may, this game is a masterpiece. The crazy action-filled role-playing video game is developed by FromSoftware Inc. One interesting fact about this game is that it is created in collaboration with George RR Martin, the king of fantasy novels. 
About Elden Ring
Elden Ring has a third-party perspective focusing on combats and exploration of the Lands Between. And, of course, a game this popular has got to be adventurous. The game is heavily dependent on character-building elements such as magical powers and skills like blocking and dodging during combats.
Also Checkout: How To Get All Bows In Elden Ring?
Elden Ring guides the players throughout the game's main story as they progress. Like any other open-world game, you have got to have your hands on some items and skills that will set you apart in the game and help you unlock areas. There are many ways of obtaining these specific items, like looting corpses or treasure chests, progressing NPC quests, etc. All in all, you have to explore the Lands Between. 
You might like: Dragonkin Soldier Of Nokstella Location Guide In Elden Ring
It has six main areas, with castles, fortresses, and catacombs all around, which can be roamed around freely using the open-world map. Each of these areas is ruled by demigods who act as bosses of the world. Everything in the game is interconnected through a central hub and could be accessed once you progress in the game. One such location that many have struggled to find in the game is The Grant Lift of Rold or Rold Route. Here's how you can get to Rold Route in Elden Ring.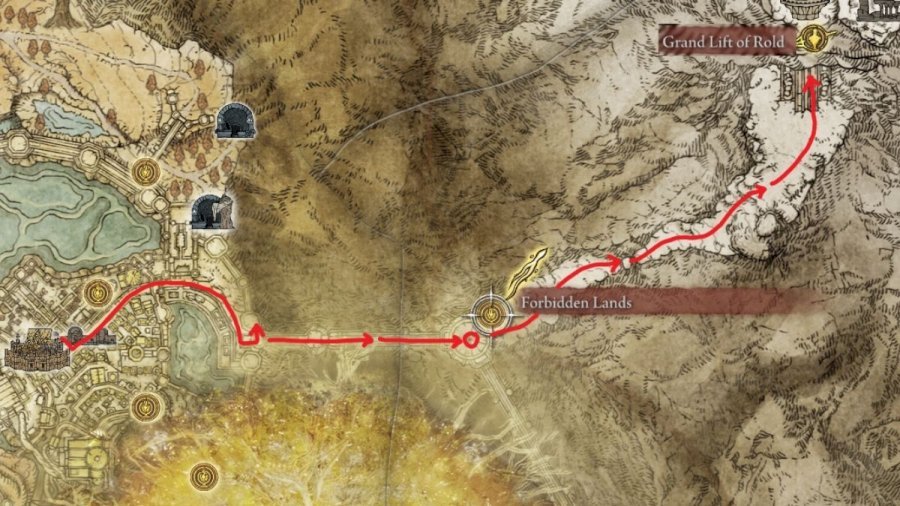 Steps To Getting Rold Route
To start with your journey of finding the Rold Route, make sure that you have defeated the Omen King, Margott.
Once done, you will rest at the Site of Grace where you will encounter Melina. She will reward you with Rold's Medallion that will be used to activate the Grand Lift of Rold. 
Now, head east as far as possible after acquiring the Rold's Medallion to get to a large doorway to unlock the eastern outskirts of the capital.
Also Read: How To Get & Use Dragon Breath In Elden Ring?
Continue up the stairway once you've entered the doorway, and hit the lever on the top to activate an elevator.
You will now be able to spot a long bridge that will connect you to another elevator leading to the Forbidden Lands.
These Forbidden Lands are the sole way to connect to the Altus Plateau with the  Mountaintops of the Giants. Cross the Forbidden Lands to get to the Grand Lift of Rold on the other side.
Also Checkout: How To Get Alexander Unstuck & Free Him In Elden Ring? 
Once there, you need to fight one of the two bosses, Night's Cavalry and Black Blade Kindred, in order to progress further.
And lastly, after defeating any of these bosses, you will be able to activate the Grand Lift of Rold using the Rold's Medallion.
All right then, I hope this blog was able to help you find your Rold Route in Elden Ring. We'll be back with another blog to help you with your gaming needs.
Happy Gaming! 🙂