Nowadays, the online game Wordle Word Puzzle has grown in popularity. It can be accessed via the official New York Times website.
Click Here To Play! 
Josh Wardle built the game for his pals, but it grew so popular among them that Josh Wardle decided to distribute it.
This game has gained widespread popularity among internet users, and it is enjoyed by all. It's entertaining, fascinating, and enjoyable to guess each letter with various possibilities, as there are no directions for guessing the first word.
About the game
Wordle is an online word game that you can play every day. It's easy and, fun to do, and can only be finished once each day, like a crossword puzzle. Every 24 hours, a new 'word of the day is unveiled, and you must figure out what it is.
Players have six chances to predict a five-letter word picked at random in Wordle. It appears green if the proper letter is in the correct spot. In the erroneous location, a correct letter is highlighted in yellow. In any position, a letter that isn't part of the word shows grey.
You may enter a maximum of six words, which translates to five burner words from which you may glean information about the letters and their positions. And, then, you'll have one chance to apply those hints. Alternatively, you can aim for performance and predict the day's word in three, two, or even one go!
Checkout the gamingbuffet review of Wordle, Click Here! 
How to play Wordle?
Anyone can play Wordle, regardless of whether they are using a desktop or mobile device. The game is completely free to play and requires only an active internet connection and a browser. Here's how to play this game effortlessly:
Navigate to the game's page in your browser.
Once complete, you'll be presented with a 5 x 6 grid and a keyboard underneath.
The first step is to guess any five-letter word. If a letter is in the final word but is not in the proper location, it is marked in yellow. If it is in the proper location, it will be highlighted in green. And, If the letter does not appear in the word, it is displayed in grey. Bear in mind that you must guess genuine words, not a random sequence of letters. The game will accept only dictionary words.
Make an attempt to locate the proper term using the process of elimination and guesswork.
Once you've entered the correct word or attempted six times, the game will display statistics. You can click on Share to copy and share the statistics on your social media accounts.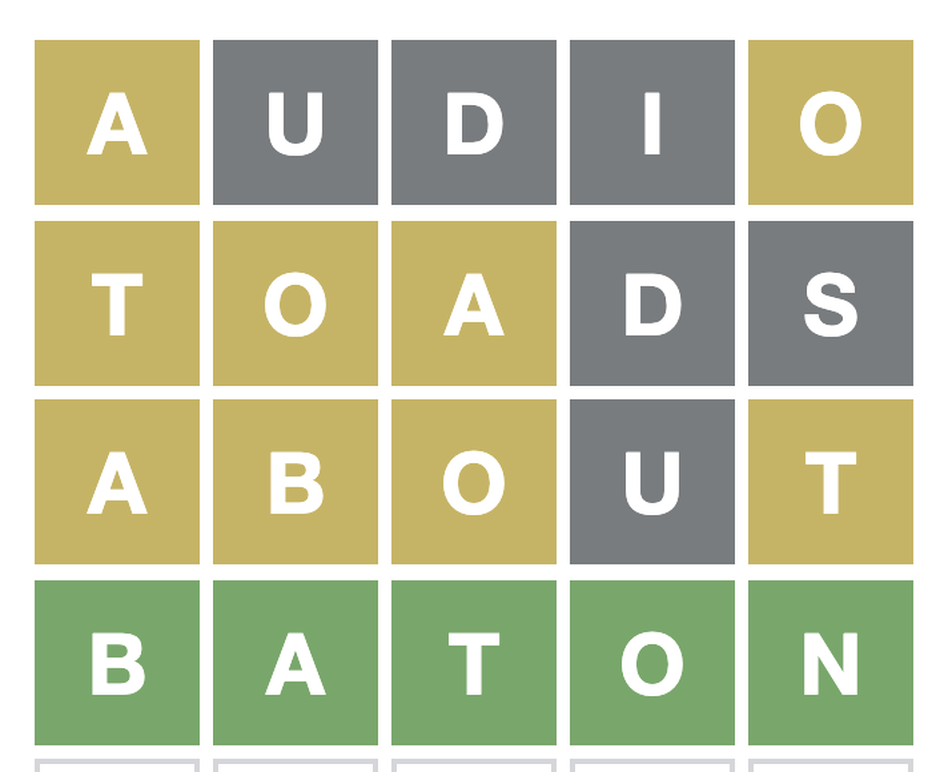 Wordle Suggestions and Techniques
Here are some helpful hints and suggestions that you may find useful when playing the game:-
1. Choosing the initial letter
The most critical aspect to remember while playing this game is to choose the correct word. Choose a word that contains three vowels and five unique letters to maximize the number of letters covered. Consider words like Resin, Loath, Senor, Ducat, Media, Radio, Notes, Acrid, and, Chino, Route etc.
2. Your keyboard is your ally
Conveniently, Wordle's keyboard also displays letters in green, yellow, and grey. This makes it simple to type words by utilizing or omitting letters as necessary.
3. Make no attempt to guess new words with grey characters
Once a letter is highlighted in grey, it should not be used in subsequent guess words. You will ultimately lose points in the game. Rather than that, take your time and experiment with alternative word combinations.
4. Maintain an eye out for yellow lettering
When a letter is highlighted in yellow, you know it is included in your final word. Maintain vigilance over your following guesses. You may determine the correct location of a yellow letter simply by deleting the previous spots in which the letter appeared. Check out the image for reference:-
Hope you found this article helpful. If you haven't played the game yet, after reading this article you no longer are unaware of what the game offers. Share your Wordle experience with us in the comments down below.
Bonus: Wordle Solution For Today:-
Since you have come this far, here is a little bonus from us to you.
The Wordle Solution for February 16, 2022 (16/02/2022) is CAULK. This was a tough one!
Happy Gaming! 🙂