Hello, gamers and welcome back to another Elden Ring blog. In today's blog, we will be discussing how to Duplicate Remembrance in Elden Ring. So let's jump right into the topic.
What Is Remembrance In Elden Ring?
In the original dark soul, defeating the boss would earn you the boss's soul. It's no different in Elden ring except for now it's called Remembrances. This only drops from some of the toughest bosses you defeat in Elden Ring. The key bosses located in the Lands Between drop these goods. Each one is associated with a single boss, and you can either use it to obtain a large number of runes or trade it in for a boss weapon, spell, or, on rare occasions, an Ash of War at Roundtable Hold.
Also Checkout: How To Get Rold Route In Elden Ring?
Once you acquire them it's totally up to you what you do with them. Decisions like these can often lead to decision paralysis in these games. But in Elden Ring that is the thing of the past as you can duplicate these remembrances and never think about what could have been. Let's learn how to do it.
How Can You Get Remembrance?
In most regions of the lands between the tarnish can encounter a giant walking mausoleum, a four-legged circular building. You have probably seen the first one in the weeping peninsula major way south. They basically look like giant turtles. You need them to crouch down before you can enter them.
In the weeping peninsula, the nearby isolated merchant's shack vendor will sell you a note for 600 ruins explaining how to do this region. But it is very simple and you won't require a note. At the bottom of his legs, you will see a chunk of White Iker which you can break off and that is it.
You might like: How To Get All Bows In Elden Ring?
Go from leg to leg and the walking mausoleum will crouch down for you to enter. Just make sure that he does not step on you. When he is finally down head in the doors and simply select the remembrance you want to duplicate. 
The only thing to be cautious of is you can only duplicate one remembrance out of one walking mausoleum so choose wisely. If you want another remembrance to be duplicated you need to find another walking mausoleum. That is it once you have done the duplication you can then return to Enia at the Roundtable to collect both unique weapons.
Also Read: How To Get & Use Dragon Breath In Elden Ring?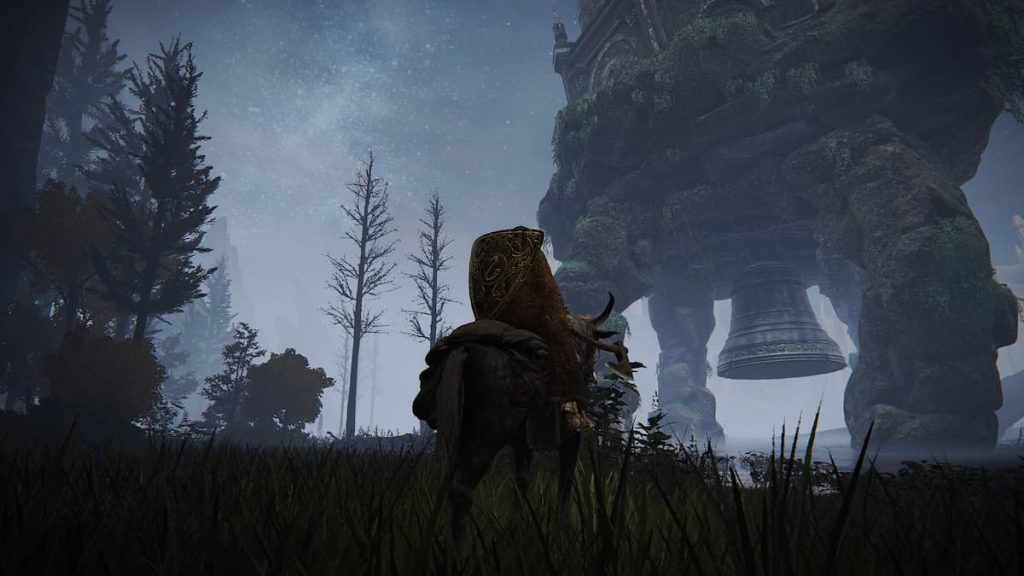 Remembrances List In Elden Ring
| | | | |
| --- | --- | --- | --- |
| NAME | BOSS | WEAPON/SPELL(S) | RUNES |
| Remembrance of the Grafted | Godrick the Grafted | Axe of Godrick, Grafted Dragon | 20,000 |
| Remembrance of the Full Moon Queen  | Rennala, Queen of the Full Moon | Rennala's Full Moon, Carian Regal Scepter | 20,000 |
| Remembrance of the Omen King | Morgott, the Omen King | Morgott's Cursed Sword, Regal Omen Bairn | 30,000 |
| Remembrance of the Blood Lord | Mohg, Lord of Blood | Mohgwyn's Sacred Spear, Bloodboon Incantation | 30,000 |
| Remembrance of the Regal Ancestor  | Regal Ancestor Spirit | Winged Greathorn, Ancestral Spirit's Horn | 30,000 |
| Remembrance of the Fire Giant  | Fire Giant | Giant's Red Braid, Burn, O Flame Incantation | 30,000 |
| Remembrance of the Black Blade  | Maliketh, The Black Blade | Maleketh's Black Blade, Black Blade Incantation | 30,000 |
| Remembrance of the Naturalborn  | Astel Naturalborn of the Void | Ash of War: Waves of Darkness, Bastard's Stars | 30,000 |
| Remembrance of the Lichdragon  | Lichdragon Fortissax | Fortissax Lightning Spear, Death Lightning Incantation | 30,000 |
| Remembrance of the Dragonlord  | Dragonlord Placidusax | Dragon King's Cragblade, Placidusax's Ruin | 30,000 |
| Remembrance of the Hoarah Loux  | Hoarah Loux | Axe of Godfrey, Ash of War: Hoarah Loux's Earthshaker | 30,000 |
| Remembrance of the Starscourge  | Starscourge Radahn | Starscourge Greatsword, Lion Greatbow | 40,000 |
| Remembrance of the Blasphemous  | Rykard, Lord of Blasphemy | Blasphemous Blade, Rykard's Rancor | 50,000 |
| Remembrance of the Rot Goddess  | Malenia Blade of Miquella | Hand of Malenia, Scarlet Aeonia | 50,000 |
| Elden Remembrance  | Elden Beast | Marika's Hammer, Sacred Relic Sword | 50,000 |
Also Checkout: Dragonkin Soldier Of Nokstella Location Guide In Elden Ring
So gamers, that is how you can duplicate remembrance in Elden Ring. If you guys like the information in the blog please comment down your thoughts. Your feedback keeps us motivated to keep writing these exciting gaming blogs for you guys. Until next time.
Happy Gaming! 🙂