Hey there, fellow gamers! Welcome back to another interesting blog from the Elden Ring series. Today, we are here to guide you on How you can Get White Mask in Elden Ring? We are sure you have been enjoying defeating enemies and eliminating bosses in Elden Ring. Speaking of enemies, you sure must know of White-faced Varre. If you haven't yet defeated him, we suggest you use him as he can be a very useful NPC for you to proceed further. Given his poor humor, we too aren't that much of a fan! But you can use him to get things like Pureblood Knight's Medal and by killing someone like him, you can even get a White Mask. Wanna know how? Well, that's what we are here for!
Also Checkout: How To Get Preserving Boluses & Location In Elden Ring?
Ways To Get White Mask In Elden Ring
You can get the White Mask by eliminating a nameless NPC in the Mohgwyn Dynasty Mausoleum. But one thing to keep in mind is, do not kill Mohg before getting the mask, or else the mask will be locked out! Now follow these below-mentioned steps to get the mask:
Go to the Mohgwyn Dynasty Mausoleum situated in the Mohgwyn Palace.
By getting a Pureblood Knight Medal from Varre, you can fast travel to this location.
Follow the Blood Marshes till he invades you.
Also Read: List Of Best Daggers In Elden Ring
Upon defeating him, the white mask will be dropped by him.
However, if the mask is not dropped then, you will have to move further ahead northwest of the Palace Approach, Site of Grace, near the blood marshes.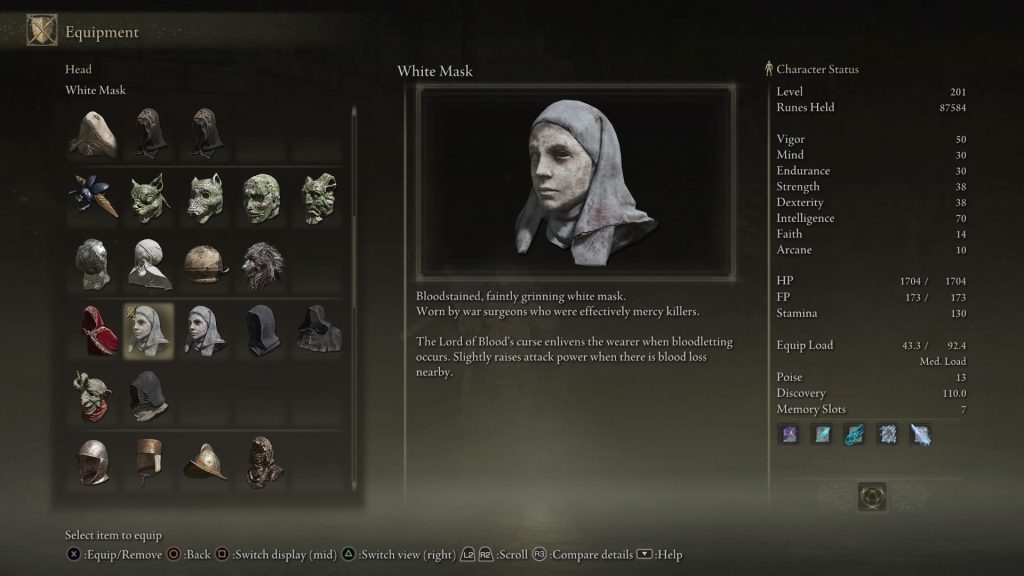 There you will spot some creatures and a Giant Crow all set to attack you.
Now, wait for another nameless NPC enemy to appear and fight it.
Once you eliminate the second nameless, it will drop the following items:

White Mask
War Surgeon Gown (Altered)
Furlcalling Finger Remedy
War Surgeon Gloves
War Surgeon Trousers

And Viola! You have yourself a White Mask which can be used to boost up attacks by 10% for a total of 20 seconds. It works as a great defense with bleed builds.
Now that you have acquired the White Mask, you can go on to enter Varre's territory and invade it and give that mockery some rest!
You Might Like: How To Complete White Faced Varre Quest In Elden Ring?
So, that was all the information you needed to Get White Mask In Elden Ring. Hope you found this information useful. Go follow these steps and grab that mask!
Happy Gaming! 🙂