Hey there, fellow gamers! Welcome back to an interesting article on How to invade other players in Elden Ring?
FromSoftware's approach to competitive PvP multiplayer is one of the reasons their games have remained so exciting throughout the years.
Even if other players do not love it as much as the invaders do, there is something to be said for facing a red phantom immediately prior to a huge boss fight. However, the invasion strategy in Elden Ring is slightly different.
Invade other players in Elden Ring as a Red Phantom
While Elden Ring's co-op multiplayer is available immediately upon exiting the Stranded Graveyard and entering the open world of Limgrave, you'll have to wait a bit longer to begin PvP multiplayer; nonetheless, we'll explain how to obtain the necessary gear down below. But first, a few quick points.
Character Level
Of course, you may use items to infiltrate the worlds of other players with the aim of murdering them, but other players can summon you into their world for a duel. Summoning is surely a great way to begin to invade other players in Elden Ring.
You can utilise the Small Red Effigy to send your invasion notice to Summoning Pools as well as set signs elsewhere.
Additionally, there is the issue of Summoning Ranges to consider. In general, summoning and multiplayer take into account: A player's current character level.
A player's current character level is the highest weapon upgrade level a player has ever obtained!
Maximum Weapon Upgrade
Let's talk about the second point, which is a bit more difficult. The maximum weapon upgrade is the highest level a weapon has ever been leveled on a character in their lifetime.
You can keep or sell a +4 mace, and your lifetime maximum weapon upgrade level is +4. It makes no difference if the weaponry is in your assets or stockpile.
The character level is essentially unchanged from previous Souls games. Multiplayer has a cap on the number of participants that can participate.
We don't know the exact ranges yet, but we'll update it as soon as we find out. To ensure more equity, you'll be partnered with people of similar skill levels.
Finally, even while attacking as a red phantom Combat player, it's important to remember that you can't ride a mount in multiplayer. Otherwise, it would be inequitable.
We'll walk you through the process of acquiring the goods necessary to invade other players in Elden Ring down below.
It may take hours, depending on the path you take, to infiltrate other gamers as a red phantom. There is a great deal more to PvP than we covered during our early access time (some of which will be included in this guide), but we will continue to update this information as we play more.
Also Checkout: How To Play Elden Ring With Friends (summon with multiplayer items)?
How to Acquire the Duelist's Furled Finger and Small Red Effigy?
Please bear in mind that this method of PvP invasion relies on another player summoning you as a Duelist. This method is distinct from the more prevalent one, and it puts you at risk of becoming overwhelmed (though some players will find that enticing).
To gain the Duelist's Furled Finger and the Small Red Effigy, go the quickest route feasible. If you haven't already done so, proceed to the Agheel Lake North Site of Grace to get Torrent.
Head northeast from there to the enormous cliffs above. The sight of a Spiritspring is that of a whirlwind of whirling air. You may jump to the cliffs above by riding Torrent and plunging into the Spiritspring.
Continue north, crossing a road and passing through a wooded area sandwiched between two colossal cliffs. Pass over a bridge/aqueduct and continue north on the road to the Stormhill Colesium, which is located near the ocean in the far north of the map.
As you approach, a red phantom will attack you. Defeat them and then advance to the front steps of the coliseum. Interact with the glowing item node to receive the Duelist's Furled Finger and Small Red Effigy.
To make these things available, navigate to your inventory.
Select them and then,
Click "Use." Additionally, you can add them to your quick item bar to make the selection quicker.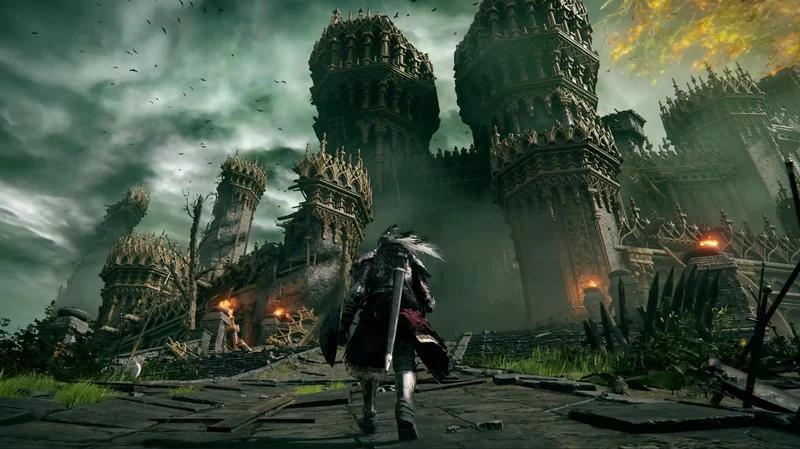 How to Acquire Additional PvP Items for the Purpose of Invading Other Players?
The invasion technique detailed above is a less conventional form of PvP in Elden Ring. However, unlike in Dark Souls 3, you will have to wait a bit before invading.
To begin, head to Liurnia of the Lakes. This is located north of Limgrave and will be accessible upon the completion of Stormveil Castle.
The following is the PvP gear you'll require to invade in a more traditional fashion:
1.Festering Bloody Finger
The Rose Church sells this PvP item. Speak with an NPC named White-Faced Varre there to receive it. You can use this to look for an attacking player, but you can only use it once.
2. Bloody Finger
A side questline in the Rose Church leads to this PvP gear. It, too, can be utilized multiple times to look for an invading player.
3. Recusant Finger
To earn this PvP equipment, find another NPC in Liurnia of the Lakes and start the Volcano Manor mission. Again, you can seek another intruder, but this one is "different" from the other two.
To utilize these PvP items:
Simply choose them in your inventory.
Highlight them.
And click "Use".
Just like you did when summoning a red phantom. Alternatively, you can make them more accessible by adding them to your quick item bar.
Also Read: How To Avoid Invasion In Elden Ring?
How Many Players Can Join a PvP Multiplayer Session?
In most cases, only one red phantom can infiltrate a multiplayer PvP game. They may confront either the summoner or an invading player, or a total of three collaborating players.
Two red phantoms may invade or be summoned within a single session, but the Host of Fingers (the player being invaded) must choose to have two red phantoms emerge.
Additionally, you should keep an eye out for blue phantom hunters. The White Cipher Ring and Blue Cipher Ring are used by some co-op players to summon help amid invasions and to seek red phantoms in other players' games.
With this, we come to an end of this informative article on how to invade other players in Elden RIng. Hope you found this article helpful.
Share your feedback and gaming experience with us in the comments down below. Until next time.
Happy Gaming! 🙂