Hey there, fellow gamers! Welcome to a fun and interesting article on how you can change your name in Minecraft! A sandbox video game, Minecraft has managed to keep gamers hooked for over a decade now. And if you play Minecraft, you are aware of the importance of your name tag. Your name tag helps distinguish you from the rest of the players. So, making it unique and quirky is what will define your personality in the game.
Also Checkout: How To Make A Rainbow Sheep In Minecraft?
Sometimes players use their name tag to specifically define their gaming personality, likes, and skills, which may vary from their real personality. Other times it is used to conceal one's identity. The reason may be any, but what is important is you know how you can change your name in the game. Now your game name can be changed in two ways depending on which edition you are using i.e. either Java Edition or Bedrock Edition. Changing the name in Java Edition is much simpler than the other one. Let's figure out both!
Also Read: How To Whisper in Minecraft?
Changing Minecraft Name On Java Edition:
The very first step is to go to the official website of the game @Minecraft.net.
You will see a link on the top-right of the jump page. Click on the link and enter your information. You will need to either add your Microsoft or Mojang account information. Entering the information will open your way to the profile screen. Your in-game name tag, as well as Xbox name tag, should be seen. Then, by simply clicking on the "change name" link, a text field will appear. Enter the new name that you wish to have and click on "change profile name". If the selected nametag is available, your name will be changed right away!
You Might Like: 5 Best Minecraft Servers (2022)
Two Things To Keep In Mind:
You can change your name tag only once in 30 days.
Once you have shifted to a new name tag, other players will be able to get their hands on your previously used name.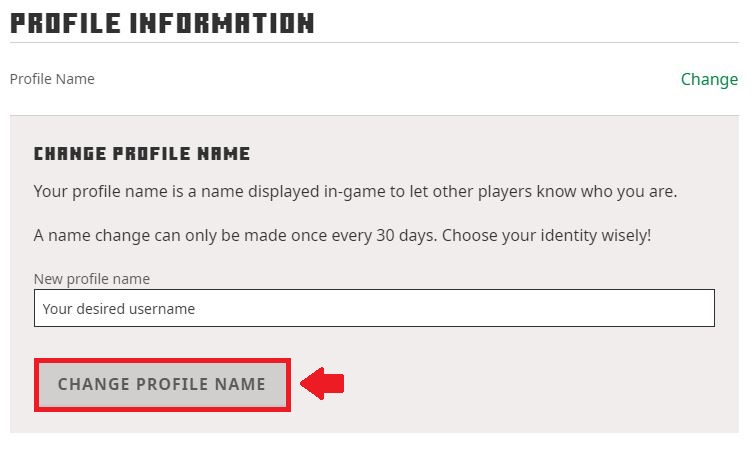 Checkout The Full wikiHow guide!
Change Name In Minecraft Bedrock Edition:
Changing the name in the Bedrock edition comes with some additional minor steps.
The first step is to click on "change account settings on Microsoft.com".
Select the "your info" option present on the top left of the Microsoft page.
Your Xbox linked account should be visible at the bottom of the page.
Click on this page which will take you to the Xbox Live Profile.
Click on the pencil icon next to the name tag by selecting the "customize" button.
Now you can enter your new game tag and check for availability and proceed to change.
Note:
If you are changing your nametag for the first time, you will be able to do so for FREE. However, you might be charged if you do so more than once.
Also Checkout: Minecraft Best Combat Weapons (2022)
And so, by following these steps you can Change Your Name in Minecraft on both Java and Bedrock Edition. Let us know in the comments section below what unique names you are using or have used. Until next time.
Happy Gaming! 🙂