Hey there, fellow gamers! Welcome back to another interesting article on Elden Ring. Today, we are discussing all about Elden Ring Multiplayer.
The Elden Ring Closed Network Test has begun, bringing cooperative and competitive multiplayer with it. Summoning and invasions have always played a significant role in previous FromSoftware titles, and Elden Ring is no exception.
If you're familiar with Dark Souls and Bloodborne's approaches, you'll quickly catch up on Elden Ring's, but for those who aren't, allow us to explain how multiplayer works in Elden Ring.
After you've chosen your character and entered Elden Ring's open area for the first time, the game will alert you that multiplayer mode is available. It all begins with gathering friends, strangers, or adversaries.
You can construct your own multiplayer menu in the options menu, from which you can select how you wish to play.
Also Checkout: How To Play Elden Ring With Friends (summon with multiplayer items)?
Cooperative (Co-op) Multiplayer Gameplay
Numerous people will prefer to investigate Elden Ring together. This is accomplished through the use of a summoning system; one player can create a sign on the ground, which another player can use to summon the drawer into their domain.
While this may not be immediately apparent, this effectively assigns each player a role: the one offering assistance and the one seeking assistance.
It should be stressed that co-op does not provide a 'full' experience for the user invited into another player's environment. For example, a summon is unable to activate a Site of Grace, Elden Ring's version of Dark Souls' bonfires.
Additionally, you have fewer restoratives than the hosting player, are unable to open treasure chests, and are returned to your home planet upon death.
Also Read: How To Avoid Invasion In Elden Ring?
While all of these limits will be known to Dark Souls players, people unfamiliar with FromSoftware should be aware that co-op does have some quirks that other co-op games do not.
If you opt to stop your co-op session as a hosting player, the Finger Severer will call a player to your planet. Useful for bringing sessions to a close with friends who insist on one more battle despite the fact that it is hours past midnight, or for canceling pointless summons.
You must use the Tarnished's Furled Finger item to aid another player. This will result in the creation of a gold summoning sign on the ground, which will be visible to other players in their world. If another player activates your sign, you will be summoned to them.
Competitive/Invasion in Elden Ring Multiplayer Gameplay
While you are immediately subject to invasions when playing co-op, you can volunteer to be invaded by a single player by utilizing the Taunter's Tongue. This serves as a summons signal for Bloody Finger wielders, summoning up to two intruders into your game.
If you find yourself in a pickle during an invasion, you can call for assistance using the White Cipher Ring. When the option is enabled, you will automatically request aid from other worlds in the event of an invasion.
Those who wish to be on call to answer the calls of such gamers should activate the Blue Cipher Ring, which will whisk them away to act as a knight in shining armor for those in need.
In essence, you can provide your assistance for free, but those seeking assistance must own Furlcalling Finger Remedies.
Furled Finger and Finger Remedy are both available through the multiplayer menu. You can even create a password system from here to restrict who may use your signs, guaranteeing that you communicate with just your pals.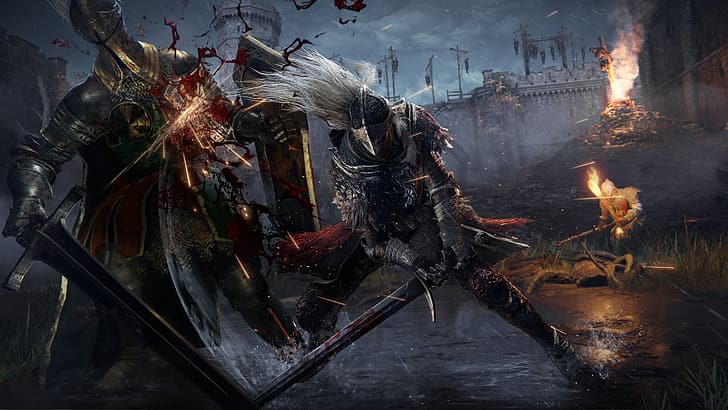 Elden Ring, on the other hand, is not just for being courteous and assisting one another. Additionally, competitive multiplayer is available in a variety of ways. Similar to the Tarnished's Furled Finger, the Duelist's Furled Finger will create a summoning sign on the floor.
This one is red, and it indicates to other players that you are actively seeking a fight. Those who accept your challenge have the option of summoning you to their world for a fair fight.
As you can see, Elden Ring multiplayer is a complicated beast with distinct dynamics for each mode. The multiplayer menu simplifies the system considerably; while these items would have been in your standard inventory in previous FromSoft games, having them in their own separate menu keeps everything in one place.
However, it remains somewhat clunky, and it may take some getting used to if you're accustomed to joining a PlayStation or Xbox party and then launching into a game.
Also Checkout: How To Invade Other Players in Elden Ring?
So, that was all the information on different types of Elden Ring Multiplayer options you can explore. What are you waiting for? Go ahead & conquer all your enemies.
If you found this article helpful, kindly share your feedback with us in the comments down below. Until next time,
Happy Gaming! 🙂