Hey there, fellow gamers! Welcome back to another blog from the Elden Ring series. Today, we are discussing Where To Buy Furcalling Finger Remedy in Elden Ring. In Elden Ring, there are numerous items linked with multiplayer and co-op gameplay. Some of these goods are the Tarnished Furled Finger, the Recusant Finger, and the Furlcalling Finger Remedy. The Furlcalling Finger Remedy, unlike the Tarnished Furled Finger and the Recusant Finger, is a consumable item that players can use up while playing co-op. Players will need to find a way to get additional Finger Remedies when they use them up.
Also Checkout: Highest Poise Armor Set In Elden Ring!
What Is The Remedy For Furlcalling Fingers?
The Furlcalling Finger Remedy is a consumable multiplayer item that can be used to join in on the fun. This item will disclose cooperative and hostile summon signs, allowing players to call others into their environment. Multiplayer begins when players invite others into their environment, which comes with some constraints.
Restrictions For Multiplayer:
In comparison to earlier FromSoftware games, Elden Ring introduced additional multiplayer features. When multiplayer begins, the following are some of the restrictions:
Torrent is no longer available to players.
When hosts summon players into their realm, they become invadable (solo players cannot be invaded until they have used the Taunter's Tongue).
The number of summoned flasks is reduced by half.
Players cannot employ spirit summons when other players are present on their planet.
Also Read: High Defense Armor & Alternatives In Elden Ring!
Furlcalling Finger Remedy Locations:
All around the Lands Between, Furlcalling Finger Remedies can be found. Players can loot these from dead bodies, defeat monsters for them, or buy them from certain NPCs. Furlcalling Finger Remedies can be found in a variety of places, including the following:
Looted from a Stormveil Castle corpse. A large number of adversaries encircle it, including an Omen ogre.
It was taken from a body in Castle Mourne. It entered the central courtyard by hugging the right wall, passing through the opponents, and burning a mound of corpses up several ladders to the top floor. It's discovered on a body near the gallows.
Looted from a corpse in Raya Lucaria's Academy. Players can find this corpse hanging off a fence from the second-floor balcony starting from the Schoolhouse Classroom Site of Grace.
You Might Like: Best Curved Swords In Elden Ring!
Looted from a corpse in Raya Lucaria's Academy. The item is on the body of the stairwell with the iron ball trap.
Various corpses in the Siofra River and Nokron localities were looted.
After fighting Bloody Finger Nerijus, you'll receive a reward.
Recusant Henricus's defeat is rewarded.
Tarnished-Eater is the reward for beating Anastasia.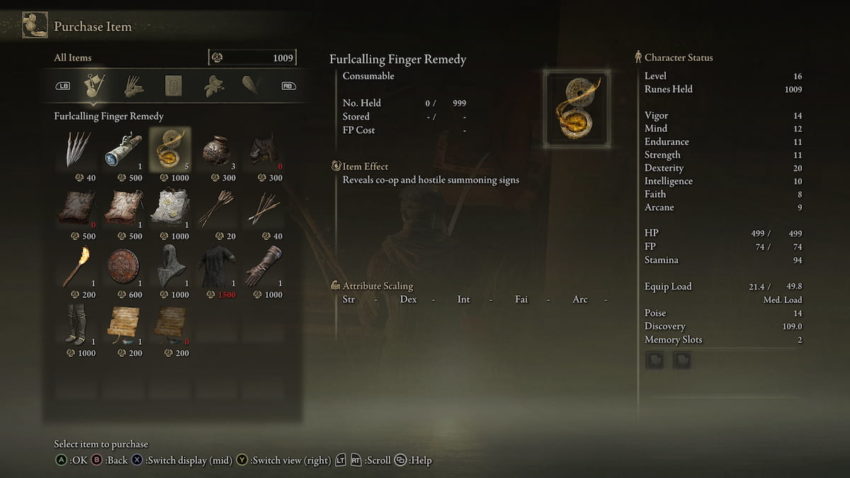 After fighting Festing Fingerprint Vyke, you'll receive this reward.
Old Knight Istvan is the reward for defeating the Volcano Manor assassination targets.
The Idle Rileigh
Traugott with Great Horns
For 1,000 Runes, you can buy them from Merchant Kalé.
Patches sell it when you open his shop.
Also Checkout: Where To Find Gold Firefly Location In Elden Ring?
Furlcalling Finger Remedy Making:
Furlcalling Finger Remedies can be made using Elden Ring's unique crafting technique. Unlike many other things in the game, the Finger Remedies do not require a fantastic Cookbook to make.
Also Read: Gelmir Hero's Grave In Elden Ring Walkthrough!
Alternative Strategy:
If you've used up all of your Furlcalling Fingers and aren't sure where to look for Erdleaf Flowers, there is another way to get them. A Furlcalling Finger Remedy is awarded to the players summoned into another player's world and defeating the area boss. A Rune Arc and a Furlcalling Finger Remedy are awarded to the player for killing a Host of Fingers as an invader.
You Might Like: Where To Farm Erdleaf Flower In Elden Ring?
And so that was all the information on Where To Buy Furlcalling Finger Remedy in Elden Ring. Hope you are able to locate the remedy with the help of this guide. Share your suggestions with us in the comments down below.
Happy Gaming! 🙂