Hello, Gamers! Welcome back to another interesting read from Elden Ring series! In this guide, we are going to share information regarding where to find Gold Firefly Location in Elden Ring, the firefly not just only emits golden light but also serves different purposes. Yes right! Gold Firefly. They are a crafting material and can be used to craft the Gold-Picked Fowl Foot and other variety of goods. If you don't know what is gold firefly and where to find it then don't worry. You are at the right place. Keep on reading to know everything related to Gold fireflies. Let's start and know its locations and see how to utilize it.
Also Checkout: Gelmir Hero's Grave In Elden Ring Walkthrough!
Gold Firefly Location In Elden Ring
It is believed that Gold fireflies have attractive magic that invites rune also! Sometimes it could be tough for players to keep up with the unique objects and quests. We know that Elden ring provides a lot of crafting materials with strange names that you think are not important at all but you never know when will you need them. Continue to collect as many as you can because these useless objects will be one of the crafting materials just like the Gold firefly. These are majorly found near the water bodies. If you're lucky enough, you can also get your hands on rare Gold firefly as they are very beneficial in this area.
Also Read: How To Duel In Elden Ring (Etiquette Guide)?
Based on the descriptions of the game, Gold firefly can be found near the Minor Erdtree waterbodies. Once you decided to rest at any place of grace, it will respawn. Most of the time, you can find them at these locations: Altus Plateau, Limgrave, Weeping Peninsula, Shaded Castle, Leyndell Royal Capital.
Limgrave
At, you can get 11 gold fireflies. Location: At Limgrave, Southeast from Mistwood Outskirts. (Site of grace).
You Might Like: How To Get White Mask In Elden Ring?
Weeping Peninsula
At Weeping Peninsula, you can get 9 gold fireflies but be wary of Octopus. There are a pretty number of enemies as Octopus. Use torrent to escape a fight with one of the huge Octopus. Once the area is clean, collect as many as you can find. Location: At Weeping PeninSouth from Tombsward (Site of grace).
Also Checkout: How To Get Preserving Boluses & Location In Elden Ring?
Leyndell Royal Capital
At Leyndell Royal Capital, you can obtain 3 of them on a body that is in the middle of the road. At Shaded Castle, you can get 2 of them. In the room, on a body.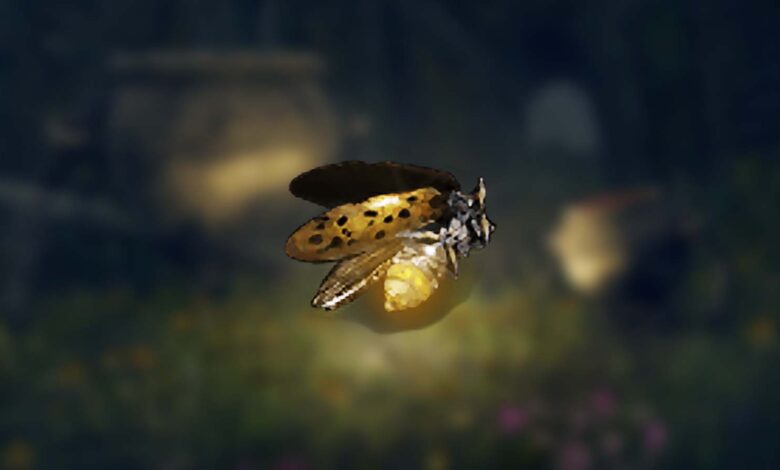 Use Of Gold Firefly: Recipe for Gold-Picked Fowl
1 Gold firefly
1 Four-toed fowl foot
3 Rowa fruit
Missionary's cookbook
You can get the cookbook from the Patches at Murkwater Cave. Second option to get it is from Twin Maiden Husks in case you've killed Patches.
You Might Like: Should You Kill Patches In Elden Ring?
Notes and Tips(Gold Firefly in Elden Ring)
Maximum Gold fireflies that you can hold is 999 only
The maximum number of Gold fireflies that you can store up to is 999
Sell Value is 10 Runes
Also Read: List Of Best Daggers In Elden Ring
Since you love playing this game don't forget to check our other guides on Elden Ring and let us know your views in the comment box down below. Hope you found this article on where to get Gold Firefly Location in Elden RIng helpful.
Happy Gaming! 🙂