Hey there, fellow gamers! We are back with another interesting Elden Ring read for you all. And today, we are discussing all that you can do in Gelmir Hero's Grave in Elden Ring Walkthrough. So keep reading to know it all! The grave is not one of the longest dungeons in the Elden Ring, but definitely the one with the most lava. Yes right! The Gelmir Hero's Grave. It is one of the shorter Graves in Elden Ring. When you stay inside the volcano, you can see that there are a couple of tough challenges and magma awaiting you inside this dungeon. 
Also Checkout: How To Duel In Elden Ring (Etiquette Guide)?
What some of the players are missing over here is that there are shortcuts to everything no matter how tough the dungeon might seem. If your target is to reach the boss and finish the dungeon and wanna grab every piece of loot that Gelmir Hero's grave offer, then look no further. We got you covered this time too! I'm gonna give you a brief overview of Gelmir Hero's Grave.
Also Read: How To Get White Mask In Elden Ring?
About Gelmir Hero's Grave
Bosses: Red Wolf of the Champion 
Notable Loot: Geir Knight set, Mantis Blade, Ringed Finger, Bloodhound Knight Set
Enemies: Skeletons, Bloodhound Knight, Cemetery Shade
You Might Like: How To Get Preserving Boluses & Location In Elden Ring?
Easy Peasy Way To The Boss
The chariot spawns far down the ramp as soon as you see the lava and steep ramp. With their swords, Two skeletons will come out of the alcoves to the left and right. Now you need to hide, so you can dodge roll or jump past them and stay in the alcove. In the crushing distance of the Chariot, don't even try to dual the skeletons. Instead of that, try to ward them off with the help of a shield until and unless you get away from the Chariot. 
Also Checkout: List Of Best Daggers In Elden Ring
Every single time you run or hide in a new alcove, the course of the chariot will change and its pathing becomes shorter. You can follow this free advice from our side before continuing, it would be best and safe for you to relax in the safest spot and observe the movements of the Chariot. 
Also Read: Which Armor Has The Highest Stats In Elden Ring?
Whenever you get a chance, just make a run and Zigzag into the ramp to every single alcove. It is completely straightforward from here. When you reach near the last alcove and end of the ramp, you can see that there's a dirt mound across that way. Now we'll tell you the shortcut to the boss. Instead of going down the ramp and into the lava. There is a steep ramp of lava(Pure). Once you reach down there, there is no worry of Chariot crushing.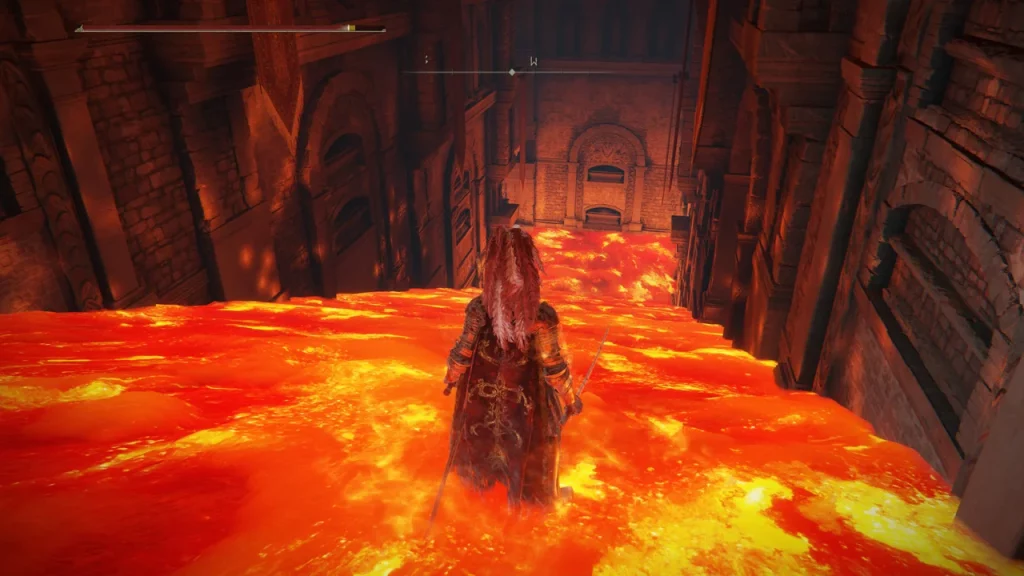 Want to survive while walking through the Lava in Elden ring? 
There is a distinct number of ways that you can choose from while going through the Lava. Firstly, If you can keep on healing and taking the fire damage with Vigor and a number of health potions like a boss, it will definitely work. Secondly, you can also use the Bloodhound's step or the Ash of War quick step to get out of lava. 
You Might Like: What To Do In Liurnia Of Lakes In Elden Ring?
Okay so when you reach the end of the ramp, just take the right and there will be an alcove with a hole in it. Simply dropping down into Grave Glovewort(7) on the ledge will kill you but with fall damage only. Just because the hall is so dark, you won't be able to see that to the left wall there is a connected ledge. While dropping down to drop, hug the left wall safely. Then you can drop once more and you will get the door that will take you to the boss fog wall! 
Also Checkout: How To Drop Weapons, Items And Trade In Elden Ring?
And with this, we welcome you to the home stretch of the Gelmir Hero's Grave walkthrough In Elden Ring. Hope you found this article useful. That's all from our side folks! Don't forget to share your views in the comment box.
Happy Gaming! 🙂