Hey there, fellow gamers! Welcome back to another interesting read from the Elden Ring series. Today, we are discussing the Best Curved Swords in Elden Ring. Elden Ring has a variety of weapon kinds to pick from, but the Curved Swords are by far the most overlooked. If you know how to use them, these are unbelievably powerful weapons, and there are quite a number to choose from. There are many good games, but a few stand out.
Elden Ring has some excellent Curved Swords, each with its own set of talents and applications. Some can extend themselves, while others can create lava on the ground. The majority of these weapons may be used to create some fantastic builds, and they all have their unique scaling. There are a lot of good Curved Swords in the game, but these have the best scaling or skills.
Also Checkout: Where To Find Gold Firefly Location In Elden Ring?
What Are The Greatest Elden Ring Curved Swords?
These are Curved Swords that can be seen in a variety of locations. Some of them are legendary weapons, while others are common ones. Because they all do different things, this list isn't in any particular order, but we did number them to show what weapons they are.
Also Read: Gelmir Hero's Grave In Elden Ring Walkthrough!
Some Great Curved Swords To Choose From:
1. Scimitar:
The weapon's dexterity scaling is superb; thus, infusing it with bleed is the best way to go. The Scimitar also has the Spinning Slash skill, which helps deal more heavy damage while also speeding up the bleed proc (once infused).
Starting weapon for the Warrior Class.
You Might Like: How To Duel In Elden Ring (Etiquette Guide)?
2. Curved Sword of Serpent God: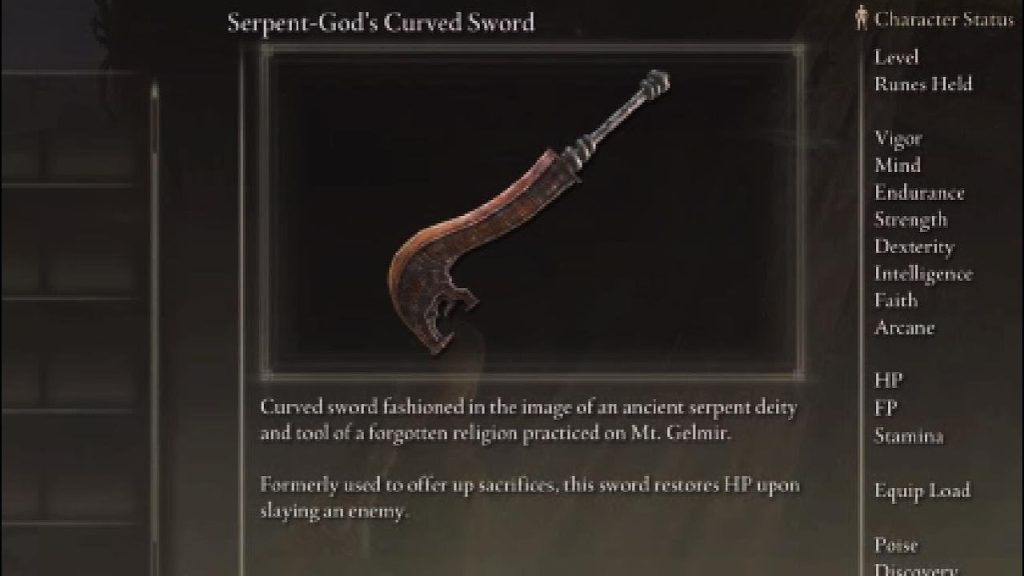 Within the game, players can obtain a tremendous Curved Sword. In addition to the standard benefits that practically every Curved Sword offers, this one comes with a passive heal.
While wielding the weapon, players will heal roughly 2.5 percent of their maximum HP. Aside from that, landing a kill grants the player a flat 25 heal. This passive heal comes in handy in various situations in a game like Elden Ring, where practically everything can be harmful.
The Serpent God's Curved Sword isn't a must-have, but it can help players create great niche builds.
Obtained from the Ruin-Strewn Precipice.
Also Checkout: How To Get White Mask In Elden Ring?
3. Blade of Magma: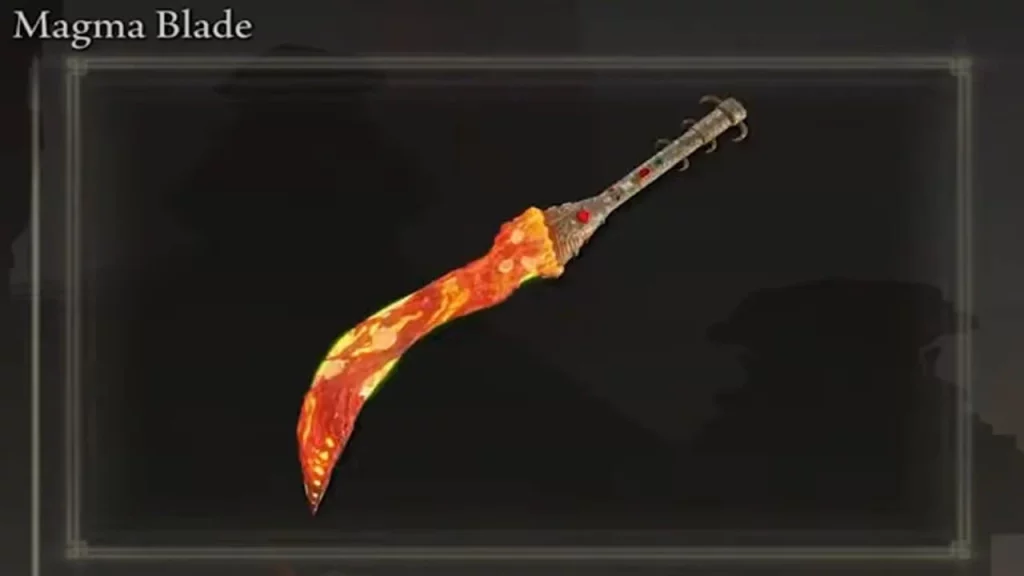 If you've ever seen an enemy wield this weapon, it appears to be fun to use. Yes, they can provide you with the firearm. All you have to do now is defeat them until they drop it. Having lava pour out of the blade is a beautiful talent for this weapon, and if you can get the adversary stuck in it, it can cause a lot of damage.
Also Read: How To Get Preserving Boluses & Location In Elden Ring?
Because the majority of the weapons on this list are unique weapons, their talents cannot be changed. Because Somber Smithing Stones only require one at every level, this is made easy. Regular Smithing Stones require 12 per type of Stone, and fully upgrading them can be difficult.
At Volcano Manor, it was dropped by lizardmen wielding the Magma Blade.
You Might Like: List Of Best Daggers In Elden Ring
4. Sword of Nox Flowing:
Because of the talent, this is the most unusual sword on the list. This weapon was made of liquid metal, and it can bend and reform into a longer blade. It practically works like a whip, making it an intriguing Curved Swords option.
It's relatively easy to obtain early on in your game, but don't rush. It can be discovered in Caelis and is accepted by defeating a boss. It has excellent scaling and is a perfect weapon choice for anyone.
When the Nox Swordstress and Nox Priest boss duo are defeated, they drop this item.
Also Checkout: Which Armor Has The Highest Stats In Elden Ring?
5. Wing Of Astel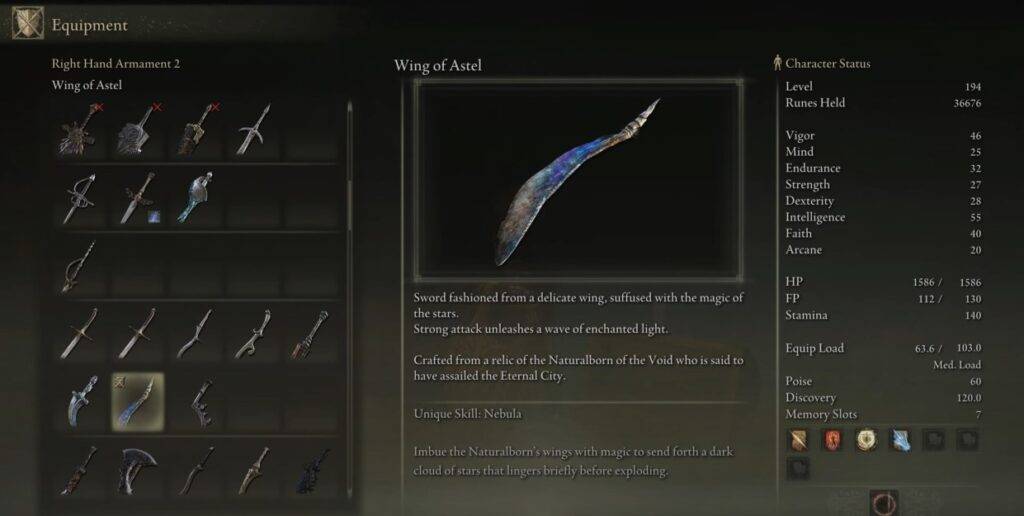 Made of a delicate wing & infused with the magic of stars, Wing of Astel is perfect for Wizards & Mages. The sword comes with a unique magical skill called Nebula that is irreplaceable by any Ashes of War. The Wing of Astel Curved Sword can be obtained from a chest at the top of Uhl Palace Ruins, Ainsel River.
Also Read: What To Do In Liurnia Of Lakes In Elden Ring?
So, that was the complete list of the Best Swords in Elden Ring. Now that you have read this, you can make a thoughtful decision and slay your enemies. Hope you are able to make the most of it. Until next time.
Happy Gaming! 🙂