Hi guys and let me welcome you back to another interesting blog about Elden Ring. And today, we are discussing how you can beat the Royal Revenant Boss in Elden Ring. Elden Ring is the newest game from the famed game firm FromSoftware. It has provided the gamers with the opportunity to explore a very fascinating environment, thanks to its difficulty and unusual boss encounters. 
Also Checkout: How To Get Royal Remains Armor Set In Elden Ring?
The Royal Revenant
While there are only roughly twelve bosses in the main plot, the Lands Between is home to dozens more. The Royal Revenant is one such monster, and he can present players with a perilous and rewarding challenge. When it comes to dealing with the Royal Revenant, it's all about preparation. Before taking on the monster, players may wish to invest in one of Elden Ring's armor sets, albeit they will not want to forfeit speed. The Royal Revenant is a dangerous foe who uses rapid and powerful attacks to wreak havoc on players. 
Also Read: How To Get Godslayer Location In Elden Ring?
How To Fight Royal Revenant In Elden Ring
The fight against the Royal Revenant might be arduous. It isn't as difficult as other bosses or Elden Ring's PVP encounters, but it can still be challenging. Because the Royal Revenant travels rapidly and chains dangerous attacks, this is the case. It can also spit poison and 'teleport' to other locations outside of the boss room, startling players with powerful combos. As a result, players should ensure that they can move swiftly and that they are equipped with light weaponry. When dealing with the Royal Revenant, quick assaults might be quite beneficial.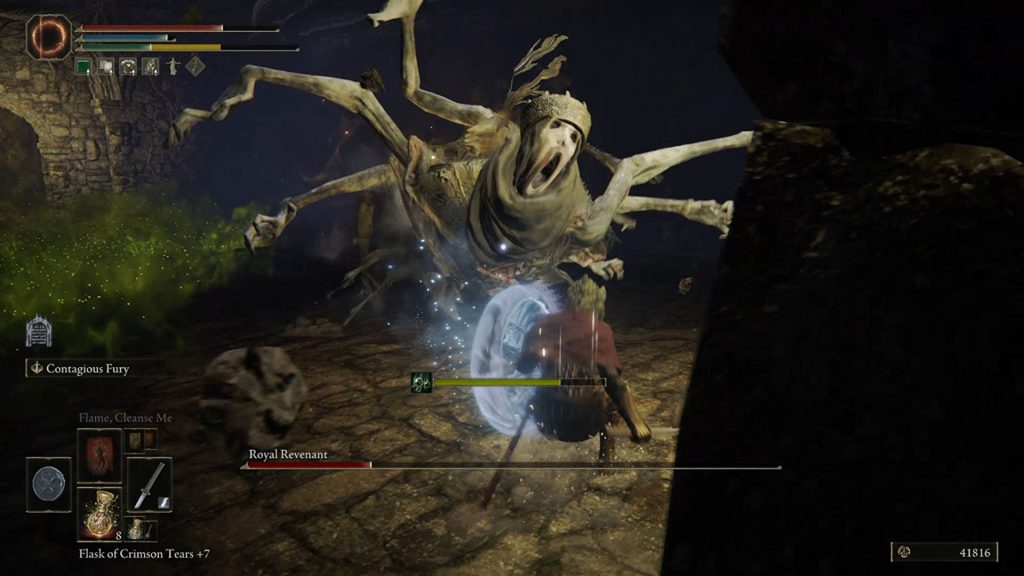 Fire and Faith are likewise weak against the revenant. Flame oils on weapons, as well as Faith-based spells, can be beneficial. In reality, players that have the 'heal' spell can use it to dispatch the boss quickly.
Finding one of Elden Ring's rune farming areas can also be quite helpful for those who find the combat too challenging. When it comes to battling the Royal Revenant, having more Vitality, Endurance, or Faith can make all the difference. 
You Might Like: Best PvP Weapons In Elden Ring You Should Use!
Finally, the boss encounter with the Royal Revenant should not be too difficult for players who prepare and take advantage of the Revenant's flaws. While some players choose not to partake in minor boss fights, these encounters contribute to the Lands Between feeling more interesting and rich.
Indeed, as the opponents get more difficult to destroy, it becomes increasingly advantageous for players to travel the Lands Between and locate new bosses to fight. Players can grow powerful enough to claim the title of Elden Lord by using merchants in Elden Ring and the myriad things and runes available in-game. 
Also Checkout: Talisman & Consumable For More Runes Boost In Elden Ring
Well, I guess that's how you can actually beat the Royal Revenant Boss in the Elden Ring. I hope you guys make the most of it in your next game. Will see you next time!
Happy Gaming! 🙂