Hello, gamers and welcome back to another blog on Elden Ring. In today's blog, we will be telling you how to get the Azure Armor in the game. So let's not waste more time and jump right into the topic.
We will tell you how to get possibly the best Mage Armor set in the game also known as the Legendary Azure Armor Set. You know you need this, gamers, you know that. That is why we are here to tell you everything on how to get this armor set. Before this, you need to know two things. In order to get the Azure Armor set you have to beat the Radahn and Rennala, Queen of the full moon.
Also Checkout: How To Get Into Leyndell Royal Capital In Elden Ring?
Steps To Get Azure Armor (Best Mage Armor)
Firstly we need to speak to Sorceress Sellen and her location is within waypoint ruins. So you need to come here and go down into the waypoint ruins seller. Moving here just get rid of all her dialogues and from here if you haven't already, go and grab the comet azure.
After you have the comet azure then you have to go to waypoints ruins seller and speak to her. Skip her dialogues. You will only be able to proceed further with comet azure because she will ask you a question about master Luce. Luce is an evil sorcerer trapped behind a magical seal. She will give you the seal breaker meaning you have to go to the set location and break the seal.
Also Read: How To Prevent Fall Damage In Elden Ring?
From here you need to go to Fort Faroth. Once spawned into the area you will come to a gravesite ruins thing and behind it guys is actually a border. A secret border when you hit will disappear meaning that you can go into this cave-like system called Celia hideaway.
You need to enter the cave and have to hit a few walls to get into them. There are two floors in the cave and you have to take the one on the left where you will find the sorcerer standing in front of a sealed wall. We have to take out the sorcerer and the sculpted wall and trigger it.
You will have to mauver around in the cave and then you will find a blue-colored glowing wall. Once past that, you will have access to Lucit. When you go towards him he won't speak much but will give you the stars of ruin. Then you need to go back to Sellen within the waypoint ruins seller.
Again clear out all the dialogues and then she will request your assistance on an important task. From here you need to make your way down to the witchbain ruins. There you will find the body of the Sorcerer Sellen. She will need you to take the primal glintstone basically her soul to a new body.
You might like: How To Complete White Faced Varre Quest In Elden Ring?
From there travel where the new body is located and the place is called Main Caria Manor Gate. You will have to fight a few bosses at this place which will be a little difficult to kill. The boss you will fight there goes with the name of Royal Night Loretta which can be a little pain in the ass if you are on a beginner level.
After defeating him you need to move around and search, once you find the ruins you will see that on the ground will be a false floor which when you hit will disappear and you can go down. Once in the chamber and you will find the body of Sellen and you transfer the Sellen's glintstone and transfer it to the body.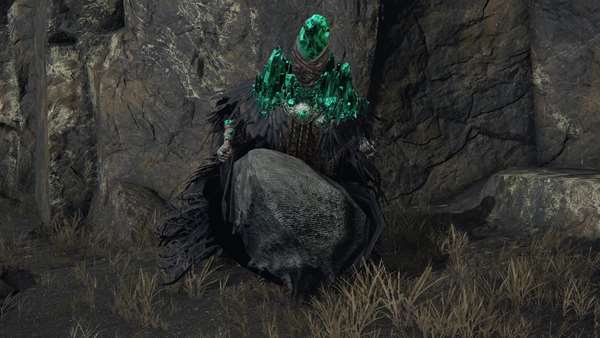 From here you then go to the chamber outside the plaza where you have to speak to an MPC. The guy is located in the church and once the dialogues are done then you go back to the witchbain ruins. There you will see Sellen's corps and MPC. Speak to him until all the dialogues are gone.
Then you have to kill Rennela queen if you have not. After you defeat her you will see two signs on the ground one glowing in yellow and the other one in red. Go to the yellow one which says summon to assist sorcerer Sellen. You have to help defend Sellen from the MPC. Kill the MPC and you are good. Then speak to Sellen at the center of the grand library.
Also Checkout: Elden Ring Rennala (Queen of the Full Moon Cheese)
After the dialogues are completed she will disappear and you can collect the Azure full armor set for which you have to go to Primeval Sorcerer Azure. You have to go to the same place from where you got the comet azure. And you will see that sorcerer's body has vanished but there will be items for you to pick and you can collect the entire Azure Armor set. It is quite a long quest but it is definitely worth it.
Also Read: Elden Ring NG+ Explained: How NG+ Works?
So guys that was all for today's blog. Do let us know in how many attempts were you able to get the Azure armor set in the comments below.
Happy Gaming! 🙂