Hey there, fellow gamers! Welcome back to another article on the very famous Elden Ring. In this blog, we are discussing Elden Ring NG+, how it works, what carries on, and what doesn't!
Just like Dark Souls, this recent launch of FromSoftware also features the NG+ or the Elden Ring New Game Plus mode. Wondering what NG+ actually is? Do not worry, we got you!
Also Checkout: Elden Ring Best Starting Class
What is Elden Ring NG+?
The New Game Plus is a mode (similar to Dark Souls), which allows you to play the game right from the beginning once you have completed it. Now, this isn't it. Not only do you get to replay the game, but you get to play again with all the gears, levels, and items you have collected in the first run!
So, the NG+ mode makes the second round of the game better and harder. The enemies & bosses too become much more dangerous. By defeating these enemies, you get better runes as rewards.
Also Read: Elden Ring Co-op: How many players are needed to play?
Because many of the goods are related to ignorable tasks that overlap, playing on NG+ can be a wonderful method to unlock them. We won't give anything away here, but you should know that unlocking everything in the game will take several playthroughs.
In the Souls game, the enemies keep getting harder to defeat and the modes go way past just NG+ (NG+7 and even above that!). The farther you go; the more runes you get. This is also expected of Elden Ring as well.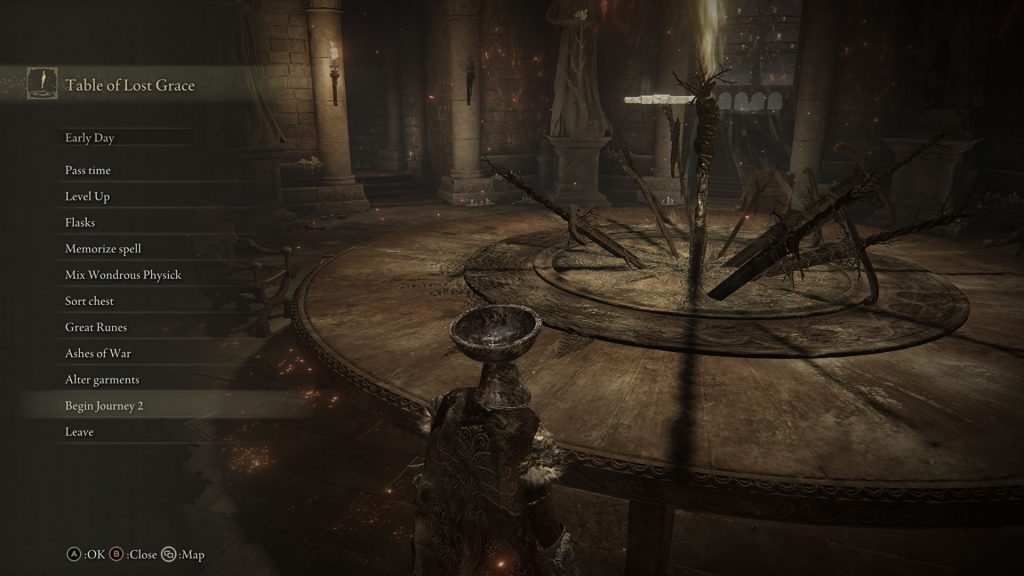 How To Get Into NG+ ?
Once you have reached the last stage of the game, defeat the final boss and the, go past the credits.
There you will get the option to continue the current game.
If you want to start a new round of New Game Plus, go to Roundtable Hold at the Site of Grace, you will see the option "Begin Journey 2".
Choosing that option will lead you to NG+ mode.
You might like: How To Get Twinned Armor in Elden Ring?
Changes in New Game Plus mode?
The NG+ mode comes with a few changes that you should know of.
The gameplay definitely becomes a bit harder although the story line remains the same.
The enemies become stronger, better with more health and damaging capabilities.
The Runes you receive from defeating these enemies are also HUGE (almost as much as 500% or above).
Also Checkout: Elden Ring Multiplayer Gameplay Explained!
What Carries On To NG+?
Most of the progress you have made in your Journey 1 will be carried on to NG+. However, in order to give a clearer idea, here is a list of items you can carry forward:
Weapons
Armor
Incantations and Sorceries
Talismans
Boss Rememberance items
Cookbooks
Flask levels
Most consumable items
Gestures
Map progress
You might like: How To Invade Other Players in Elden Ring?
What Does Not Carry On To NG+?
Although a lot of significant achievements in Journey 1 will be given to you in Journey 2, there are still a few items that won't be carried on to the NG+.
Any areas that have been opened with keys
Bell Bearings
Great Runes rewarded from bosses
Keys
Sidequest and NPC quest progress
Any progress towards main quests
Also Read: How To Play Elden Ring With Friends (summon with multiplayer items)?
So, that was all for today's blog. Complete your Journey 1 and quickly get on to the Journey 2 of Elden Ring NG+. Hope you found this article helpful. Don't forget to share your experience with us in the comments down below.
Happy Gaming! 🙂