Hey there, fellow gamers! Welcome back to another blog from the Elden Ring series. Today, we are discussing How to get Oleg's Spirit Summon in Elden Ring. Do you love to have a fight with a boss? Well, we know you do! That is why today we came up with the best guide full of information for our Elden Ring Fam! As we all know that battles with enemies or having a fight with a boss, is quite a hard task in Elden Ring. Few of the fights can be next to impossible or sometimes gets out of hand. But there's always something that is there with us.
Also Checkout: How To Cure Madness In Elden Ring?
The friend. Yes! We have a friend in Elden Ring too but that friend is not reliable at all. "Spirit Summons"! A great way to fight enemies. You can summon the spirit of numerous spirits (totally depends on the spirit summon) to help you on the battlefield. Amongst the best spirits is "Banished Knight Oleg". Now, we will see how you can obtain the "Banished Knight Oleg" spirit summon in the game.
Also Read: Scavenger's Curved Sword In Elden Ring (Location & Best Builds)
How To Obtain Banished Knight Oleg's Spirit Summon
Let's jump directly to the main point which is the "Location" of the "Banished Knight Oleg". It's not a task to get to the location but it's quite easy.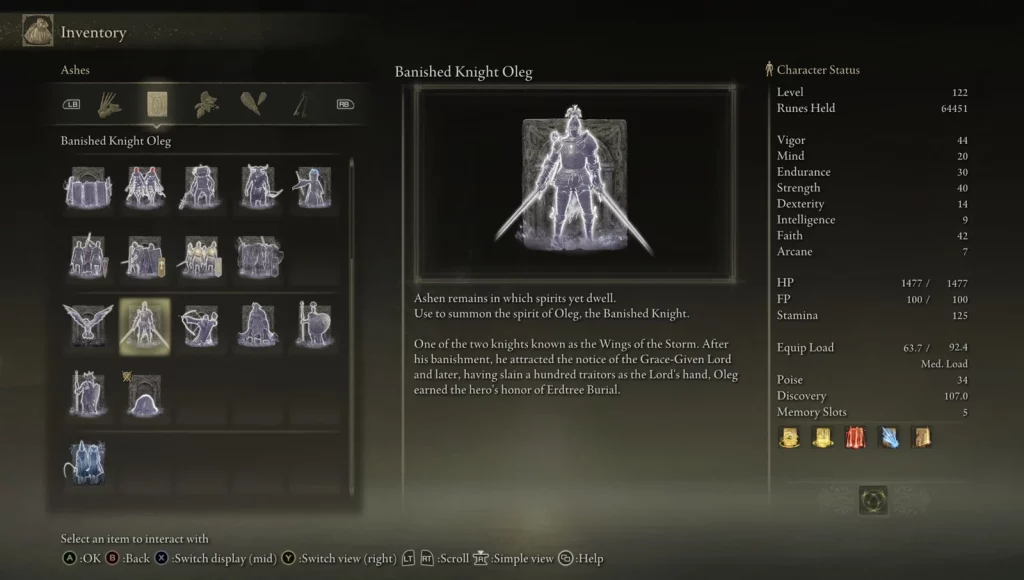 You will find the Spirit Summon of Banished Knight Oleg in the "Fringefolk Hero's Grave" that is in South Limgrave. When you reach the "First Step Site of Grace", move a little south. You need to enter the building from the Site of Grace and then take the elevator and go down. Once you reach the bottom, you will see a "Mist Wall". Now you will need to unlock it also, use the Stonesword Key for that.
You Might Like: How To Increase Attack Speed In Elden Ring?
First, unlock it and then follow the path as you "go down the ladder". That's not all! Be careful of certain things as you are going to land in a "poison body" that will be covered by foes and by anyhow you will have to ignore the Chariots. Chariots will be there to patrol the area. To dodge the chariots, take help from the gaps in the walls. 
Also Checkout: What To Do In Forge Of The Giants In Elden Ring?
Don't stop, till you reach the bottom of the path. After you follow the path and reach the downward area, you will see there will be a "Gold fog Wall" that will indicate a battle. You need to prepare yourself for the battle and once you're good to go and have that confidence. Enter the "Boss Room". "The Ulcerated Tree spirit" is the boss with whom you will have to fight. Defeat the boss and once that's done and dusted, you will get the "Banished Knight Oleg's Spirit Summon and a Golden Seed" in Elden Ring. So finally! You will get what you want after so much hustle. 
Also Read: Where To Activate Rykard's Great Rune In Elden Ring?
And that is all folks! I hope this article really helped you get Oleg's Spirit Summon in Elden Ring. Share your suggestions with us in the comments down below. Until next time.
Happy Gaming! 🙂