Hello Elden Ring Fam! What's up! You are all mad about Elden Ring, right? That is why today's article is very much related to the word "Madness". And so today, we are discussing How to Cure Madness in Elden Ring? In order to do so, you will absolutely require some spells and items. We don't want the target to lose health and FP. In madness effect, it just keeps on building up and once it's full, you know who will lose what? This is a terrifying situation. We know! That is why we are here for you with the required information. Let go and dig deep! 
How to Cure Madness Buildup in Elden Ring? 
You can use the clarifying boluses consumable and the spell called Lucidity.
Also Checkout: Scavenger's Curved Sword In Elden Ring (Location & Best Builds)
Where To Find These Items And Spells? 
Map Location for Clarifying Boluses!
If you are thinking of crafting it then you will be required these below-given items:
Eye of Yelough x1
Frenzied's Cookbook[1]
Crystal Cave moss x1
Dewkissed Herba x2
Also Read: How To Increase Attack Speed In Elden Ring?
If you are a sorcery user, You can look for the spell called Lucidity in Study hall (Carian) and Preceptor Miriam is going to drop it. You will be needed to unlock the location which is secret. Go to the location.
You can take help from the statue (Carian Inverted). That's not all, we have some other important points covered for you only! Let's check it out! 
How Can You Decrease The Amount of Madness in Elden Ring? 
To reduce the madness in Elden Ring, you will require to search and equip items, skills, and equipment that provide a somewhat amount of resistance to this madness. Keep on adding the mind attribute points, it will increase your focus stat. So focus on that only!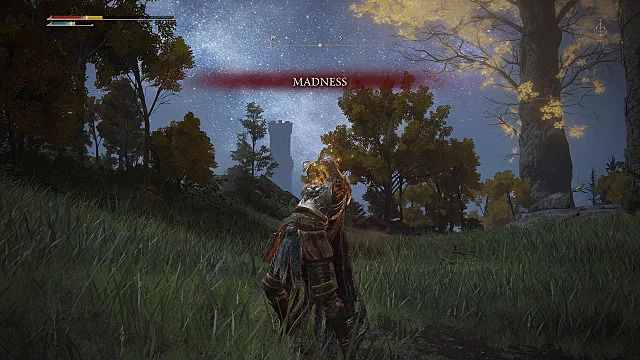 What Items Are Needed To Increase Your Focus? 
Rift shield
Shield of the Guilty
Clarifying horn charm
Mottled Necklace
You Might Like: What To Do In Forge Of The Giants In Elden Ring?
For High Focus Armor, You'll Require:
44- Pumpkin Helm
214- Mushroom set
107- Corhyn's Robe
165- Azur's Glinstone
Also Checkout: Where To Activate Rykard's Great Rune In Elden Ring?
How To Avoid The Madness In Specific Areas Such As Frenzy Flaming Tower?
If you witness the Frenzy Flaming Tower on the screen, one thing is very obvious in this case, your level is going up! Yes! The madness level is definitely going to increase. You can hide behind a rock, a tall one! Get help from the horse. Hide there until your madness meter comes to zero. Once it empties out, keep on going and there you will find a Spirit Spring, from which you can get help to jump up to big heights. If you are on the right track that is if you following the right direction and at the right angle. You will land near the Frenzy Flaming Tower. 
Also Read: How To Get Preserving Boluses & Location In Elden Ring?
If you peek inside, you will see that there are rats. In this case, you have two options either you can kill them or evade and climb the ladder. When you climb the following two ladders, there will be enemies waiting for you on top. Defeat them! It is very important to explore the tower properly because it will unlock the Howl of Shabriri Incantation. There will be a Maddening Shriek, nearby enemies will get madness buildup. It will also cause the buildup of madness in the caster also that will eventually excite the enemy to target them. 
You Might Like: Where To Buy Furlcalling Finger Remedy In Elden Ring?
That's all folks from our side! Hope this article resolves all your concerns related to How to Cure Madness in Elden Ring. Don't forget to check out our more related articles. Until then, keep on playing and kill all those bad bad enemies! Go for it!!
Happy Gaming! 🙂