Hello, Crazy fam of Elden Ring! Welcome back to another exciting read. Today, we discuss Scavenger's Curved Sword in Elden Ring with its location and best-suited builds. Swords are a crucial part of fighting with enemies just like other weapons in Elden Ring. There are varieties of swords such as Curved Swords and Great Swords. With a Curvy Edge, that one is known to be Curved Swords( True to its name). But one of the best options you would have in swords is "Scavenger's Curved Sword" because for certain obvious reasons. 
Also Checkout: How To Increase Attack Speed In Elden Ring?
Scavenger's Curved Sword Location
One of the worth having swords, The Scavenger's Curved Sword can be found in Mount Gelmir as Loot(Floor). Once you find the sword, you don't need to fight with anyone. Pick your sword and Leave immediately. Let's look into the directions:
Go towards Mt. Gelmir(Northeast) and then to the Campsite Site of Grace(1st Mt. Gelmir).
Now head towards the other direction that is Northwest and there will come a bridge, cross that.
Once you cross the bridge, The Scavenger's Curved Sword will be on the floor.
Also Read: What To Do In Forge Of The Giants In Elden Ring?
Be careful! Because Someone is guarding the area. Yes! Grafted Scion. As mentioned above just take your sword and proceed, don't deal with anyone. It has both the DEX & STR, The Scavenger's Curved Sword has a Scaling, and specific it has D. In order to wield the sword, you will require DEX-14 and STR-9.
In no time, your weapon will become perfect for the game. There are some more benefits to it. Any type of Ashes of War can be infused and it also has Buildup(Bloodloss) as Passive. This will be a plus point from the start for Bleed builds.
You Might Like: Where To Activate Rykard's Great Rune In Elden Ring?
Best Builds For The Weapon
There's no doubt that you can use it whenever you want to, early or late in the Elden Ring. Not only for bleed, but this build is the best. 
What things you will require to make this build? 
Flask of wondrous Physick( Thorny Cracked Tear, Greenburst Crystal Tear)
White Mask Helm
Talismans( Rotten Winged Sword Insignia, Lord Of Blood's Exultation, Claw Talisman, Millicent's Prosthesis) 
2x Scavenger's Curved Sword( Requirement for both: Seppuku Ashes of War, Occult Affinity; Black Whetblade) 
Raptor's Black Feathers
Consumables(Fire Grease; Apply on both of it)
Dragon Communion Seal( Incantation- Golden Vow, Flame)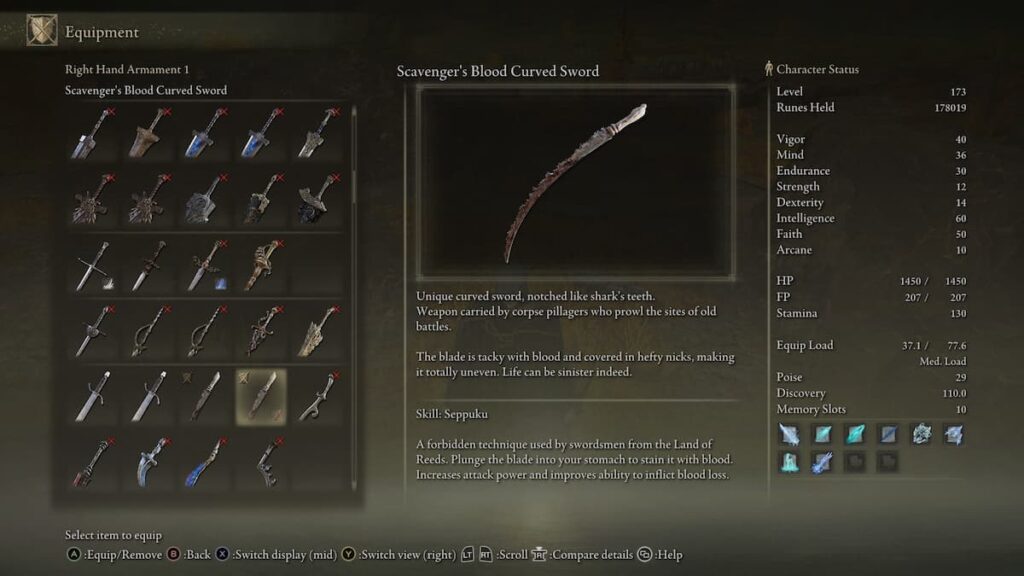 Also Checkout: Where To Buy Furlcalling Finger Remedy In Elden Ring?
Mentioned above are the items that will help you to make the perfect build. In just seconds, you'll be able to do 20-23K of damage(Jump attacks; Power-Stanced). Because of the bleed, this massive damage doesn't even occur. 
Bloodloss Buildup– It will totally buildup the damage. 
Jump Attacks- Most of the chunk happens because of it plus the including items that are there to boost it more. 
Arcane Scaling will be gained by Occult Affinity. It will not only helps bleed but also the damage(Physical). It will enhance it more. 
Flask and Grease: In order to deal with the health of any Foes. 
Incantations: It will increase the physical damage. Bosses who have immunity to bleed will work on them. 
Except for Talisman, all items are quite easy to get, you don't even require a high level. 
Also Read: Highest Poise Armor Set In Elden Ring!
The most important items that you need are DEX, STR, and ARC. For the Incantations, a sufficient amount of FAI, END, and VIG(the rest can go into it). With an affinity called Occult, for scaling the damage of a weapon (Physical damage), he builds will open up a door. 
You Might Like: High Defense Armor & Alternatives In Elden Ring!
That's all from our side folks about Scavenger's Sword in Elden Ring along with its Location and Best Builds for the weapon. Hope you get all the relevant information that you were looking for. Don't forget to drop your lovely comments. We'd love to read that, just like you love to read our articles. Check our more related articles to Elden Ring. Till then keep on playing and kill those bad enemies.
Happy Gaming! 🙂